Gift Exchange
Current Version 1.0.0 Available for Macintosh OS X
This program helps you to evenly distribute gifts when you have a large family and/or lots of gifts.

Gift Exchange allows you to enter a list of everyone receiving a gift, and the number of gifts for each person. It then will present a grid displaying the names, number of gifts left, number of gifts given, and other information. Each person's grid box changes color to indicate the priority of that person receiving a gift, based upon the total number of gifts, number of gifts for that person, and amount of gifts given since this person received a gift. Green means that person may receive a gift. Red means that person is overdue for a gift. Blue means the person is about to become ready. Brown means the person is not due for a gift. And grey means that person has no gifts left. As an added attration, you can also use the program to display a grid of blinking lights shaped like stars.
Official name:
Gift Exchange



ATTENTION: This program will be enhanced on a regular basis. Check back often for new versions.

Current version:
1.0.0 (OSX 10.4+ Universal) Snow Leopard Compatible
Features:
Distribute gifts evenly
Plus:
Blinking Christmas lights

Price:
Free
Site License:
Still free
Educational Pricing:
Always free
Yes, it is free. But a donation is always appreciated. Donations will help ensure this program will continue to be updated with fun new features. Enter the amount you would like to donate in the space provided, and click the Donate Now button. You will be directed to the Paypal web page where you can send your donation via your Paypal account. Thank you for your donation.


The Gift Exchange program is now available for downloading. Click the link below to download the installer to your computer.

1.0.0 Gift Exchange Download OS X 10.4+ (Universal) (800KB):
http://homepage.mac.com/gosborn/software/GiftExchange.zip



Screen Shots: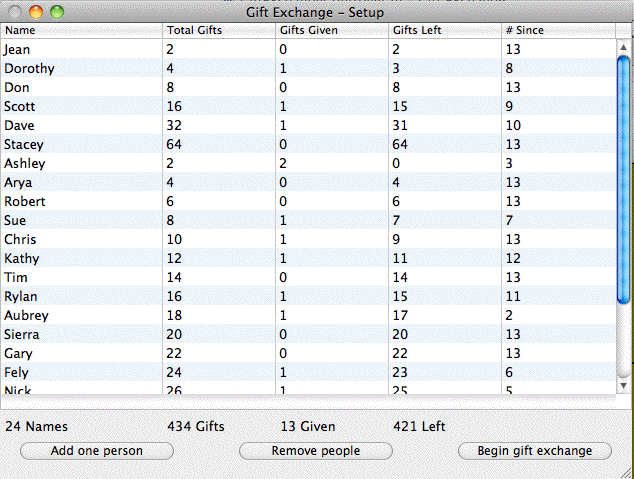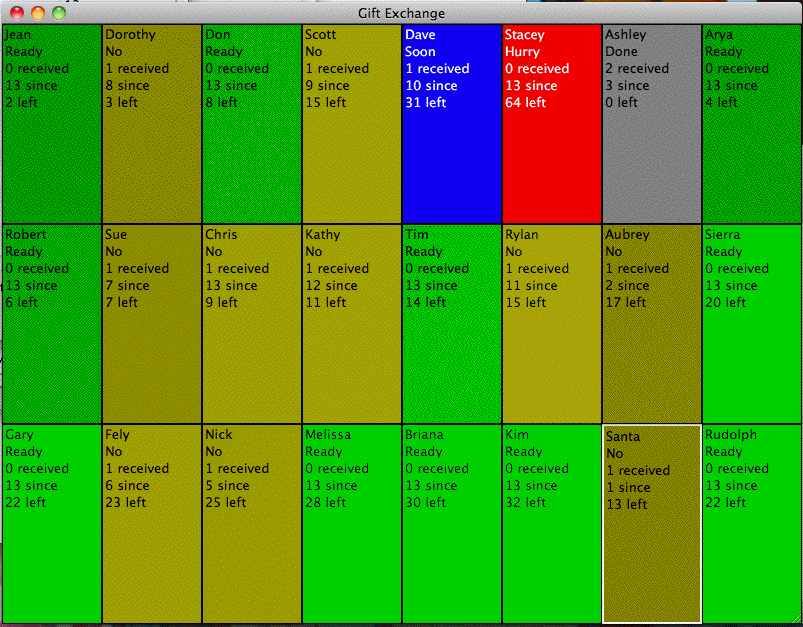 ---