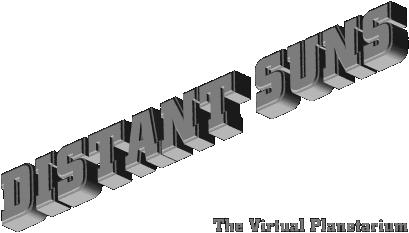 Distant Suns for Mac is now free!
Now available: Distant Suns version 5.1.5 for OS X. Click here for links to the update files, which are now comopatible with Mac OS X 10.3.9 thru 10.6. Fixes in 5.1.5 are the removal of an error dialog when clicking on a star with no information, the ability to turn off the Starship display, the ability to resize the star and starship windows, and compatibility with Mac OS X 10.3.9 and 10.4.
Distant Suns 5.1.5 for Macintosh allows viewing of the stars and planets as they would appear from anywhere on Earth, or from anywhere in the Solar System.
Distant Suns 5.1.5 is now available for immediate download. Mike Smithwick is the author of the program, and I, Gary Osborn, am responsible for this Macintosh version. You can download a demo/freeware version of the program, and instantly register for full functionality for free. Also available for download are the files originally available only by CD, giving you the full media rich content.
Push the Download link if you would like to download the Distant Suns 5.1.5 software.
If you enjoy Distant Suns and other programs by Osborn Entertainment Software, we encourage you to make a donation. Your donation will help enable our further support for Distant Suns, as well as make possible further software development, both freeware and shareware. Click on the Donate Now button below. You will be directed to the Paypal web page where you can send a donation via your Paypal account. Upon receipt of your donation, we will add our email to your database to keep you informed of future Distant Suns updates and other software releases. We keep your email address private. If you would prefer to donate by check, the Distant Suns download includes a donation form and instructions on where to send your donation.
---
If you have questions about Distant Suns, email me:
Feature List
Screen Shots
Requirements
Download